Welcome to Gianna's Page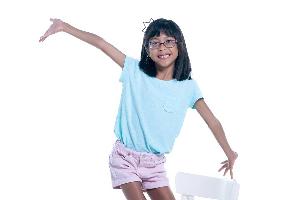 Hi, I was just over a pound when I was born at 27 weeks old. I was rushed to the Neo Natal Intensive Care Unit (NICU) where I was experiencing congestive heart failure.
Three weeks later my parents found out that I was partially blind and required immediate Laser eye surgery. I stayed in the hospital for seven months! For two years, I saw many specialists, including feeding, physio, speech and occupational therapy. They were all really nice. I continue to work hard at everything I do and now want to give back to help the NICU as they saved my life. They're awesome!
Please make a donation by clicking the orange "Donate Now" button and help me to reach my fundraising goal!
For the next year, Gianna will represent Manitoba and be an ambassador for the 120,000 children who visit the Children's Hospital every year. Next week, Gianna will travel to Florida to meet other Champions from across North America. There she will celebrate her achievements, and meet with international media, to help showcase what an amazing hospital and research institute we have here in Manitoba.
Gianna is the first Filipino Champion Child in the history of the Children's Hospital Foundation of Manitoba and proud of her culture. Click here to read more of Gianna's story.
The Champions program, run by the Children's Hospital Foundation of Manitoba, honours remarkable children who have triumphed despite severe medical challenges. The Champions program is sponsored by Walmart Canada, and Air Canada.
View More
Achievements

Goodbear Badge
$1,000+ Raised
Fundraising Honour Roll
Winnipeg Co-Ed Volleyball League
Event Name:
Participant: Gianna Eusebio
Fundraising Goal: $30,000.00
Event Overview:
If you think this page contains objectionable content, please inform the system administrator.